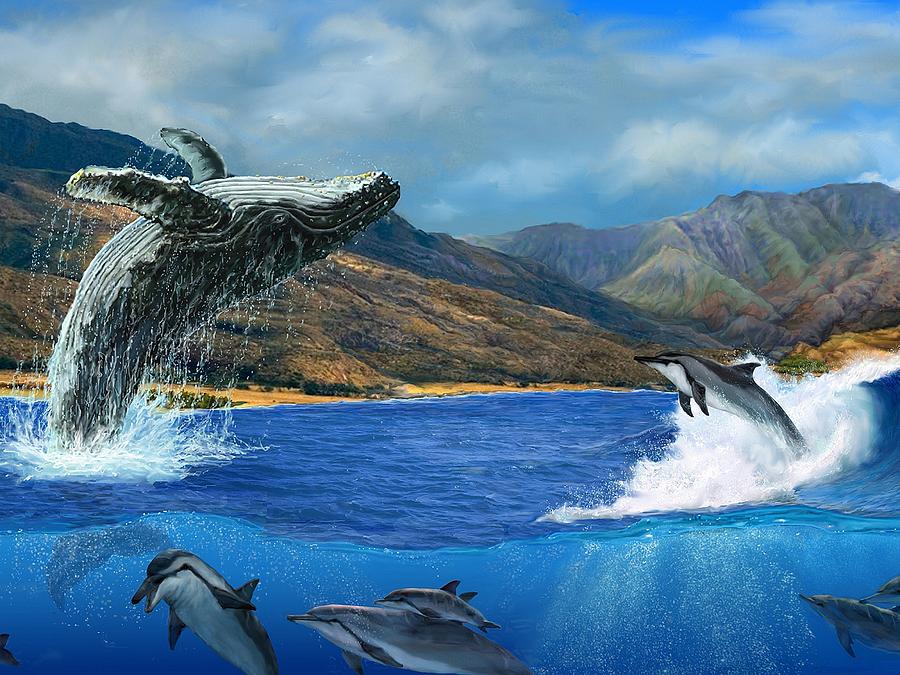 Title
Breaching Humpback Whale at West Maui
Medium
Painting - Original Digital Painting On Canvas
Description
Single Panel version of a Multi Panel painting

I do a lot of three and even four panel painting prints because I like the modern look and it is quite an attractive means to decorate a wall. But not everyone has the wall space for such a long decorative display, and some would prefer the more traditional rectangular painting format. So I have redone most of my multi-panel pieces as single panel rectangle works. Check out other pages of my site to see if I have posted a multi panel version of this painting/print.
This is another of my famous whale paintings. Well, they never did become famous, but I did manage to sell every whale painting I did 15 - 20 years ago. Now I am doing them again. This is a Humpback whale breaching, (jumping nearly out of the water) off the coast of West Maui, where there are lot of whales and dolphins. The Maui mountains in West Maui are quite dry as it is the Leeward side and the fairly small island doesn't get that much rain on the Leeward side. But the browns of the drier mountains do contrast nicely with the cooler blues of the ocean. There is a pod of Hawaiian Spinner Dolphins zooming along from one wave to another. I like the stripe and coloring of Spinner Dolphins, very artistic looking. The Spinner Dolphin is named that because they often leap high into the air, spinning as they do so. I didn't
show leaping dolphin in this painting because I thought it would distract from the breaching Humpback which is the main point of painting. I'll do spinning leaping dolphins in another painting. But I do show a surfing dolphin and a mother and a baby Spinner Dolphin, not commonly depicted, as well as a laughing Spinner dolphin which are normally only shown in Bottle Nosed Dolphin pictures.
Uploaded
December 9th, 2015
Statistics
Viewed 176 Times - Last Visitor from Romeo, MI on 12/01/2022 at 3:09 AM